Contact Us
+86 13480709275
Block 11,Shunchang Industrial Park, Xiaobian Second Industrial Zone, Chang'an Town, Dongguan City, China

How Can We Help?
If You Need Any Helps Please Feel Free To
MIM Parts
Metal injection molding (MIM) is a powder metal process that is characterized by forcing metallic feedstock under pressure into a tool cavity. This process is similar to the injection molding process but uses powder metal feedstock. The resulting 'green' part goes through a debind process followed by a sintering process to produce a high strength metal part. The tool cavity is created using two hardened tool steel dies which have been machined into shape. Most MIM parts are made from stainless steel alloys, but other exotic materials such as titanium are available.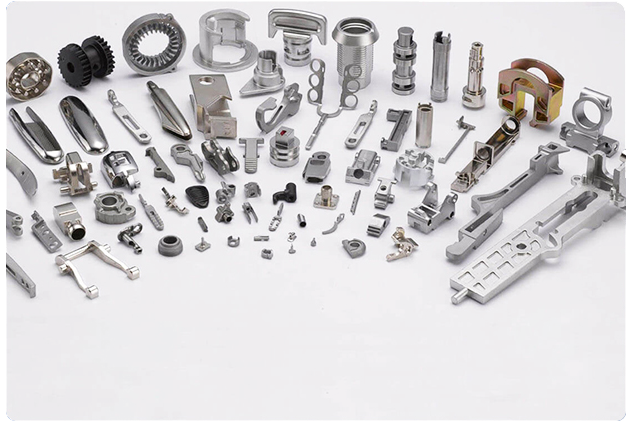 What is a mim part?
A MIM Sintered parts manufactured by powder metal injection moulding with a certain degree of dimensional accuracy and capable of withstanding tensile, compressive and torsional loads or working under frictional wear conditions, also known as sintered structural parts.
Understanding the Benefits
Metal injection moulding (MIM) established itself as a competitive manufacturing process for small precision components which would be costly to produce by alternative methods. It is capable of producing in both large and small volumes complex shapes. The primary advantage of MIM is the production of intricate parts in stainless steel or other metals that cannot be die cast or cannot easily machined.
For engineers, if you want to do a good job of product structure design, you need to take the initiative to learn and understand the MIM process, perhaps you will find that you can achieve cost reduction by using the MIM process.
China MIM Products factory
The (MIM) Metal Injection Molding process combines the design flexibility of plastic injection molding with the strength and integrity of wrought metals to offer cost effective metal design solutions for highly complex net shape metal part geometries.
Secondary Operations
We offer various machining, plating and finishing operations in-house to provide a finished part.
What is MIM Metal Parts materials?
Ferrous alloys—steels, stainless steels, 17-4 ph Stainless Steel, iron, tool steels, iron-nickel magnetic alloys, and specialty ferrous alloys such as Invar and Kovar. Tungsten alloys—tungsten heavy alloys and tungsten-copper. Hard materials—cemented carbides (WC-Co), and cermets (Fe-TiC).
Metal Powders - Our MIM Parts Materials
MIM is a powder metallurgy method, therefore, it is applicable to high-melting point or difficult to cut material. On the other hand, it requires the feedstock development for small size powder.

SUS 316L

SUS304L

SUS 17-4PH, 440C, HK30, Precipitation hardening by Si

MIM 4605(Fe2Ni), Fe4Ni, Fe8Ni.

Titanium Alloy
Harber Injection mass production material performance table Download
We could do normal dimension tolerances +-0.3%. Holes or threads could be drill or CNC additionally.
Contact us today to discuss your MIM products application. We proudly serve clients from all over the world.
Reach Out to Discuss Your MIM Project
Do you need a quote for your high-precision complex mim Components? Contact us now by phone, email, or through our contact form.