MIM process is a versatile metal manufacturing process that has many applications in the automotive industry. Metal MIM can be used to produce various precision auto parts that require high precision, complex geometry and high strength. Using MIM in auto manufacturing can improve the performance, efficiency and safety of the vehicles, while also reducing the component manufacturing cost and delivery time.
Contact Us
+86 13480709275
Block 11,Shunchang Industrial Park, Xiaobian Second Industrial Zone, Chang'an Town, Dongguan City, China

How Can We Help?
If You Need Any Helps Please Feel Free To
Powder Metallurgy Sintered Metal Shock Absorber Parts
Type: Automotive Shock Absorber Parts
Material:Iron Powder, Iron Powder, Composite Material
Item Name:Sintered iron parts
Surface Treatment:CNC Machining, Oil Immersion
Minimum order quantity: 5000PCS
Payment method: TT/LC
Supply capacity: 200000pcs/month
Delivery period: 15-30days
Regular packaging: custom made, PE bag / carton / fumigation-free tray customized / PE bag + carton + wooden pall
Product Details
Company Profile
Packaging&Shipping
Ordering Steps
Powder metallurgy (sintered metal) products are used as components in various applications. A typical application is the automotive industry. Many powder metallurgy and sintered metal products are used in automobiles, such as engine parts, shock absorber parts, transmission parts, power steering parts, chassis parts, compressor parts, electric window parts, door parts, exhaust-related parts, etc. Additionally, they are used in other industries including engineering machinery, transportation machinery, agricultural machinery, textile machinery, embroidery machinery, medical machinery, office machinery, gas stations, hairdressing equipment, motors, appliances, tools, furniture, and all other fields.

Powdered Metal Precision Car Parts automotive shock absorber parts
Important components in the production of automotive shock absorber parts include the shock absorber piston and the shock absorber base. By developing and manufacturing pistons and bases with specialized materials and high-precision seating surfaces, as well as using low-friction resin-packed pistons, the stability of the damping force of the shock absorber is ensured, contributing to improved driving stability and passenger comfort.
| | |
| --- | --- |
| Brand name | OEM & ODM |
| Product type | Adjustable hinge mim part |
| Product Model | MIM702 |
| Material | Stainless steel 316L 304 17-4PH peptide Fe2Ni Fe4Ni Fe20Ni |
| Post-Sintering | Polishing,Wire-drawing,Sandblasting,Plating,Coated,etc. |
| Size | Custom |
| Tolerance | 10mm±(0.02-0.04)mm |
| Weight | 10g |
| Forming Method | Powder Injection Molding |
| Sintering method | Solid phase sintering |
| Sintering environment | Vacuum |
| Mold material | Stainless steel |
| Application | Security industry |
| Shape | Custom |
| OEM | Accept |
| QC system | 100% inspection before shipment |
| Payment terms | T/T at sight, Paypal, Western Union,etc. |
| Lead time | 7-15 working days |
| Supply capability | 500000 Piece Per Month |
| Packaging | PP bag / Anti-static film / anti-static plastic disc |
MIM is widely used in the automotive industry
Ignition control lock parts, turbocharger rotors, valve guide parts, automotive brake parts, automotive sunshade parts, clutch inner ring, fork bushing, distributor bushing, automotive conduit, etc.
What's the MIM technology and its advantages and features.
MIM is an advanced metal forming technology that use injection molding machine to manufacturing precision and complex metal parts, which combines the advantage of PM and plastic injection molding.

It's suit to do mass production with complicated shapes, create metal parts with complex geometries; MIM technology can accurately produce components features such as internal and external threads, undercuts, teeth (e.g., gear teeth), slots, holes, fins, markings, and engravings.

MIM process imposes few restrictions on the part design. It gives freedom to manufacture a variety of shapes, can fabricate multi-component parts as a single piece

Wide selection of metal materials for MIM, It can use all kind of metal material(such as stainless steel, carbon steel, copper alloys, nickel alloys, tungsten alloys, cobalt alloys, iron, carbide, ceramic and titanium, etc)

Its relative density can achieve more than 98%, MIM parts are produced with high density, resulting in excellent mechanical properties, including strength and hardness. This makes MIM a great solution for components that need to withstand high stress and wear.

Its finished products is close to final products, less material wastes and scrap than a machining process, which is important for expensive materials such as refractory materials, titanium alloys, superalloys, and specialty metals. reducing the post-treatment cost, and then save production cost.

Compared with tranditional CNC and precision casting process, the structure are more even and preformance is much better, Consistent part quality, Consistent part density & strength

Compared with PM(Powder Metallurgy), MIM can produce more complex shape and better preformance metal products.


Production cost comparision between MIM and other processes
Cost Effective Design Flexibility/ Material Variety and Integrity

Powder metallurgy can ensure the accuracy and uniformity of the material composition ratio. Suitable for producing products of the same shape and large quantities, low production cost.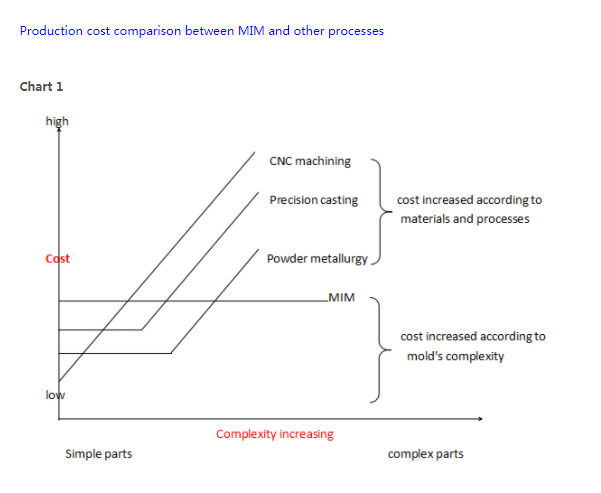 Auto Parts Manufacture Compare with other process
| | | | | |
| --- | --- | --- | --- | --- |
| Parameter | MIM | CONVENTIONAL PM | MACHINING | INVESTMENT CASTING |
| Density | 98% | 88% | 100% | 98% |
| Tensile Strength | High | Low | High | High |
| Elongation | High | Low | High | High |
| Hardness | High | Low | High | High |
| Min. Wall Thickness | 0.5 mm | 1 mm | 0.5 mm | 2 mm |
| Complexity | High | Low | High | Medium |
| Surface Finish | High | Medium | High | Medium |
| Production Volumes | High | High | Low | Medium |
| Range of Materials | High | High | High | Medium-High |
| Cost | Medium | Low | High | Medium |
Service:
1, 100% inspection before shipment.
2, Satisfied packing, carton, wooden case, pallet,or according to your requirement.
3, Samples are within 35-40 days after the receipt of the deposit. production will be finished about 25-30days after samples confirma
Production Capacity comparision of MIM and other process
Most difficult metals and compounds, pseudo alloys, porous materials can only be manufactured by powder metallurgy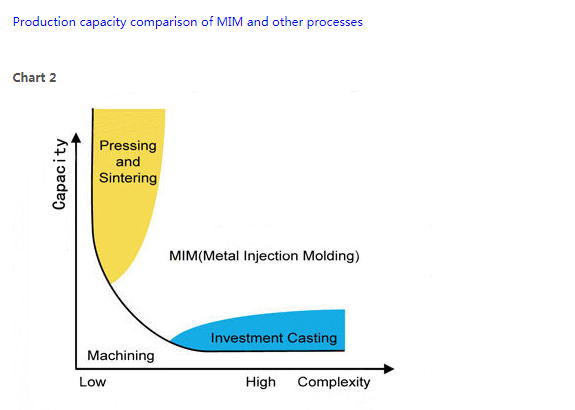 Auto Parts MIM Material
Material

Composition

Low alloy steel

Fe-2Ni, Fe-8Ni

Stainless steel

316L, 17-4-PH

Tool steel

42CrMo

4

, M2, Skd-11, C45

Carbide

WC-Co(6%)

Ceramics

Al

2

0

3

, ZrO

2

, SiO

2

Tungsten alloy

W-Ni-Fe, W-Ni-Cu, W-Cu
Powder Metallurgy Ultra Power Auto Parts

Powder metallurgy products have advantages in energy saving, material saving, environmental protection, economy, high efficiency and so on, which are gradually recognized by various industries and widely used; especially the application and development of automotive powder metallurgy products, which pushes the powder metallurgy industry into the fast lane of development.
Powder metallurgy parts used in automobiles are products with very high scientific and technological content, which can reduce the weight of automobiles and lower manufacturing costs, and have the effect of optimizing the production process of automobile industry products and improving the competitiveness of the automobile industry, and at present, the powder metallurgy parts used in automobiles in the world are more than 400 kinds of powder metallurgy parts.
Your Partner for Automotive Metal Shaped Solutions
As a global market leader for metal injection molding mim components, we deliver customized high-precision metal shaped solutions and engineering support to enable industrial and automotive parts innovations. MIM auto parts are near fully dense, which gives excellent mechanical, magnetic, corrosion and hermetic sealing properties, and allows secondary operations like plating, heat treating, and machining to be easily performed.
Over 10+ Experience as an metal Injection Moulding Manufacturer
Over 10+ Experience as an metal Injection Moulding Manufacturer & Powder Metallurgy in Automotive Industry. Harber Metal has been in the metal injection molding industry for years, and we are considered one of the best automotive metal parts manufacturers in the world. Here are some of the key applications that we provide to the automotive industry, Harber provides high-end global customers with high-quality components and advanced one-stop solutions. Our zero-defect products covers in such businesses fields as Automotive, Medical application, Houshold, Consumer electronics, Hardware tools and Lock. Best raw materials, strict inspection control and cutting-edge know-how has made Harber a reliable and professional profile to our customers from all over the world. We are sure that Harber can meet any needs from them by using our expertise, credibility and technicality.

We have fully professional and high standard automated production line which contain: Powder metallurgy automated batching system, Advanced level automatic powder molding machine(60T-300T), Mesh belt sintering furnace, Steam treatment furnace, finishing machines, Powder metallurgy physical and chemical equipment, Robot manipulator,Fiber laser marking machine,Advanced testing equipment (universal testing machine, digital mapping instrument, etc.) . All these equipments support the high speed, the highest accuracy, to ensure product development and production.
Harber Metal has excellent talents in the field of powder metallurgy, mature powder metallurgy production technicians, and long-term cooperation with domestic top powder metallurgy research laboratories. It is a comprehensive high-tech enterprise integrating research, development, production and sales of powder metallurgy structural parts.
Surface Treatment
Harber can offer such surface finish (secondary process) as sandblasting, electric polishing, magnetic grinding, laser engraving, PVD, carburizing, Permeability nitrogen and annealing.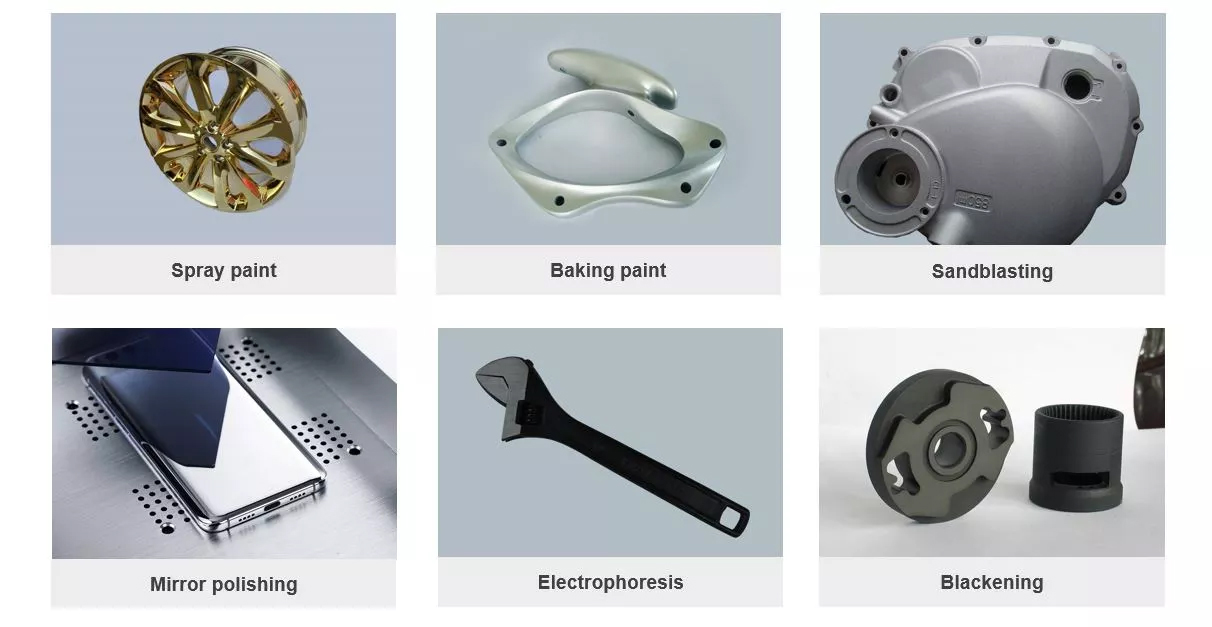 Your Reliable Automotive Metal Injection Molding Parts Companies
Harber Metal is an ODM and OEM manufacturer of automotive metal injection molding parts and automotive moulds. We work with both saloon and commercial automobile manufacturers to develop metal solutions that are suitable for their brands. Our designteam is experienced in creating complex, luxurious, special performance and functional interior & exterior automotive metal parts and moulds within your budget. We also haveprofessional auto engineering experts that ensure all the automotive metal injection molding solutions we offer are optimized for assembly.
We pay highly attention to packing quality. As we know the metal parts come out in perfect quality standard, but packages is not strong easily happen damage during delivery,so that final effects is 0. What we want is let you get our products safely fastly to give us high rates and reorder with us next time. We will control every steps very well for you.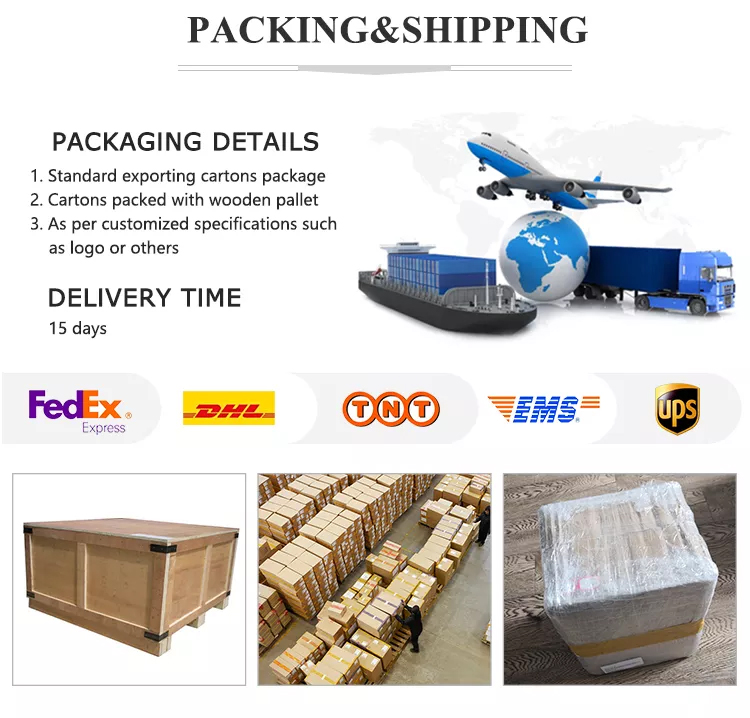 In our company all our package must make sure strongest then picked by shipping company. The inside with waterproof plastic bag + 5AA strong carton + green wooden pallet + plastic belt wrapped outside.
The automotive industry is known for its high demand for small and intricate parts and tools. These components are crucial for various systems within vehicles, including electrical systems, fuel systems, interiors, powertrain, and safety systems. As a result, there is a growing preference for using Metal Injection Molding (MIM) technique in the automotive sector.
MIM is a manufacturing process that is commonly used to produce automotive components such as vanes, engine gears, valves, connecting rods, oil supply systems, fuel systems, valve guides, injector clamps, turbochargers, seat adjustment systems, parking brakes, window openers, door lock systems, main bearings, seatbelt systems, airbag systems, gearboxes, automatic transmissions, pumps, and turbo superchargers. This technique allows for the production of small and lightweight parts that meet the high-performance requirements of the automotive industry.
Harber is a leading supplier of Metal Injection Molding (MIM) in China. Let's get started on your new automotive mim metal parts project!
1: Give us inquiry by email.
2: Quote your price by our sales usually in 1-2hours on working days.
3: Confirm price& artwork and Sign Contact
4: Pay first half money
5: Make free metal parts samples to your door by DHL freely for confirmation
6: Only get your metal parts sample approval then start to arrange mass production.
7: When mass production is finished, we will take clear pictures for you confirmation. After you confirmed you pay balance.
8: Shipment by sea or air depends on your requirements.
9: You get the metal products, deal finished.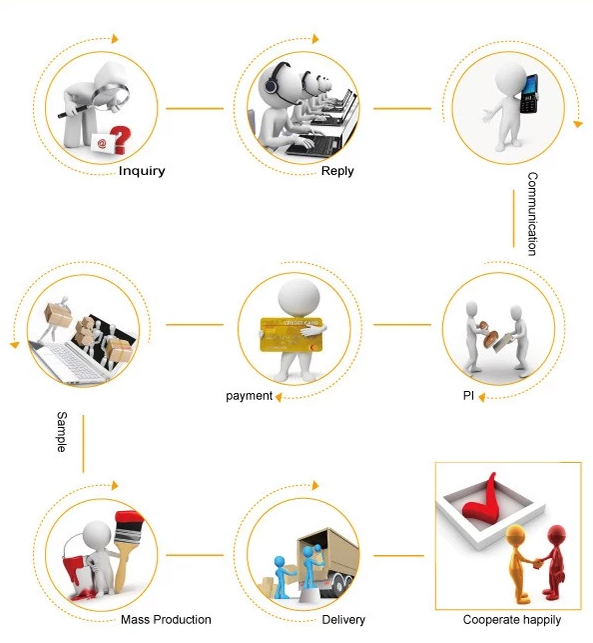 For whole steps we will guarantee you can get the metal parts safely and fast and in high quality. If in cased happen any problems because of us in this machining process, we promise remachining freely or refund your money. If mistakes is happened from your end, we can also remachining if you agree to pay extra machining cost.
Our comprehensive Metal Injection Mold capabilities allow us to take up small to large medium range projects. Over the years, we have built an extensive metal materials supply chain network, which allows us to assure quick turnaround times. Request a quote for mim parts in the automotive industry, or contact us for any additional assistance.