Contact Us
+86 13480709275
Block 11,Shunchang Industrial Park, Xiaobian Second Industrial Zone, Chang'an Town, Dongguan City, China

How Can We Help?
If You Need Any Helps Please Feel Free To
Sintered Metal MIM Earphone Components Stainless Steel Powder Metallurgy Machinery Parts
Powder Metallurgy Sintered Stainless Steel Parts
Harber Industrial Ltd is a leading manufacturer of Metal Injection Molding Products, Powder Metallurgy Parts and precision metal parts that other conventional processing produce.We have developed more than 2000 different mim metal components for these applications alone. Our offering includes variety of materials with different properties such as high strength, wear resistance, corrosion resistance etc. In recent times with increase in automation across the industry, usage of MIM components becoming more popular & familiar. Our experience in serving this segment for a long time gives us immense advantage to understand specific requirement, and provide cost-effective quality solutions accordingly.

Material: Stainless Steel, Iron,tungsten Alloy And Etc
Size: customized
Surface treatment: original or according to the requirement
Certification: ISO9001: 2015
OEM: accept
Feature: high strength
Product Details
Company Profile
Packaging&Shipping
Ordering Steps
Custom Made Stainless Steel Powder Metallurgy Sintered Parts
Powder Mixing
Mix <20 µm typical powder with polymer (binder) system to produce the MIM feedstock. Theoretically speaking, the smaller the particle is, the bigger its specific surface will be, which is good for molding and sintering.
Granulation
The evenness of the mixture directly influences its fluidity and further influences the technical parameter of the injection molding, and the density and other performances of the final material.
Molding Injection
Mold complex components from the feedstock using standard plastic injection molding equipment & techniques. During injection molding, the mixture is heated in the injection molding machine into plastic material with rheology, and then injected into the mold under certain pressure to mold a blank.
Sintering/Debinding
Remove the plastic binder by sintering parts in a high temperature H2/N2 pusher furnace. The high density of MIM component is achieved through high sintering temperature and long sintering time, which greatly improves the mechanical property of the component.
Equipment advantages:
Mixing machine, Injection molding machines, Degreasing furnaces, Vacuum sintering furnace; Automatic pressing machine, Repressing machine, CNC machining equipment, finishing machining machine, polishing machine, Automatic oil punching machine and so on...
Testing equipment:
Projector, Salt spray test machine, Partial pendulum instrument, electronic balance, electronic gravity apparatus, universal tester, Rockwell hardness tester, Density tester, gauge block, dial indicator, micrometer, Vernier.
What's the MIM technology and its advantages and features.
Simple to Complex Designs
A multitude of design capabilities as there is no extra cost for unlimited features or markings, precision complex net-shape components from a variety of compositions
Metal Variety
Suitable for almost any type of metal, it can use all kind of metal material(such as stainless steel, iron, ceramic and titanium, etc)
Low Tolerances
Metal injection molding can maintain low overall dimensional and locational tolerances
Quick Prototyping
Quick turnaround on short runs. Compound tooling can combine more than one prototype with the same material
Low Cost Modifiable Tooling
Produced quickly and low-cost revisions, MIM injection molding can produce precise part geometry without cutting and secondary processing. It can produce high-density and highly complex structural parts and reduce costs for the whole production. its finished products is close to final products, reducing the post-treatment cost, and then save production cost
Intact Metal Properties
The density of structural parts varies greatly. The friction between PM powder and tools will make the parts uneven. The MIM injection molded parts are uniform in all directions, and the relative density can reach 95% - 99%. The sintering temperature of MIM is much higher than that of PM, the strength, toughness and wear resistance of MIM injection molding are significantly higher, and the utilization of raw materials is high.
compared with tranditional CNC and precision casting process, the structure are more even and preformance is much better
compared with PM(Powder Metallurgy), MIM can produce more complex shape and better preformance metal products.
Environmentally Responsible
The metal injection molding solution (raw materials) is recyclable, safe to use, and can be reused for future metal molding
Production cost comparision between MIM and other processes
Cost Effective Design Flexibility/ Material Variety and Integrity

Powder metallurgy can ensure the accuracy and uniformity of the material composition ratio. Suitable for producing products of the same shape and large quantities, low production cost.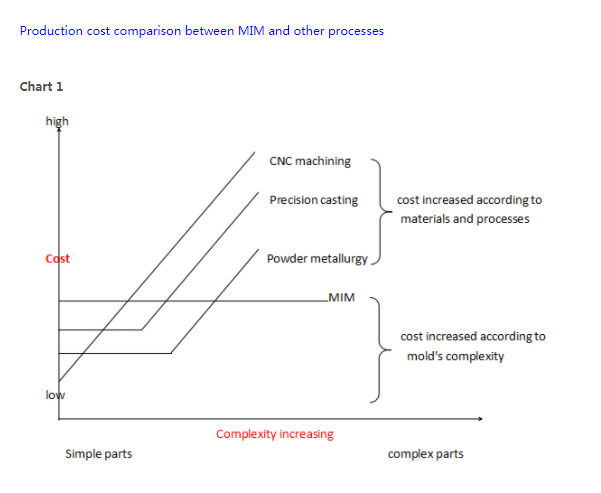 Compare with other process
| | | | | |
| --- | --- | --- | --- | --- |
| Parameter | MIM | CONVENTIONAL PM | MACHINING | INVESTMENT CASTING |
| Density | 98% | 88% | 100% | 98% |
| Tensile Strength | High | Low | High | High |
| Elongation | High | Low | High | High |
| Hardness | High | Low | High | High |
| Min. Wall Thickness | 0.5 mm | 1 mm | 0.5 mm | 2 mm |
| Complexity | High | Low | High | Medium |
| Surface Finish | High | Medium | High | Medium |
| Production Volumes | High | High | Low | Medium |
| Range of Materials | High | High | High | Medium-High |
| Cost | Medium | Low | High | Medium |
Service:
1, 100% inspection before shipment.
2, Satisfied packing, carton, wooden case, pallet,or according to your requirement.
3, Samples are within 35-40 days after the receipt of the deposit. production will be finished about 25-30days after samples confirma
Production Capacity comparision of MIM and other process
Most difficult metals and compounds, pseudo alloys, porous materials can only be manufactured by powder metallurgy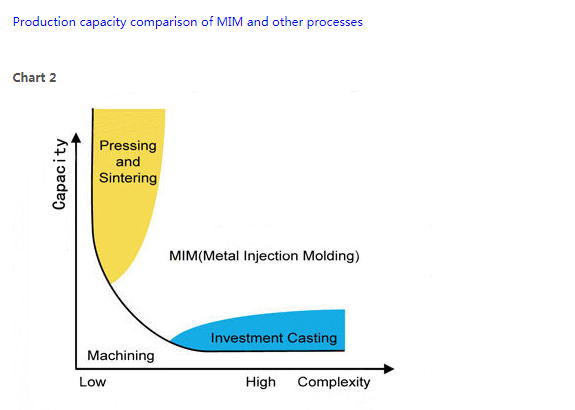 MIM material
Material

Composition

Low alloy steel

Fe-2Ni, Fe-8Ni

Stainless steel

316L, 17-4-PH

Tool steel

42CrMo

4

, M2, Skd-11, C45

Carbide

WC-Co(6%)

Ceramics

Al

2

0

3

, ZrO

2

, SiO

2

Tungsten alloy

W-Ni-Fe, W-Ni-Cu, W-Cu
We have fully professional and high standard automated production line which contain:Powder metallurgy automated batching system, Advanced level automatic powder molding machine(60T-300T), Mesh belt sintering furnace, Steam treatment furnace, finishing machines, Powder metallurgy physical and chemical equipment, Robot manipulator,Fiber laser marking machine,Advanced testing equipment (universal testing machine, digital mapping instrument, etc.) . All these equipments support the high speed, the highest accuracy, to ensure product development and production.
Harber Metal has excellent talents in the field of powder metallurgy, mature powder metallurgy production technicians, and long-term cooperation with domestic top powder metallurgy research laboratories. It is a comprehensive high-tech enterprise integrating research, development, production and sales of powder metallurgy structural parts.
Our independent R&D parts:Germany Maya warp knitting machine parts, Electric actuator gear, automobile oil pump rotor, washing machine transmission gear, German customer oil pump rotor, electric actuator double tooth, big round machine triangle which transfer from the steel and casting parts. This process help customers cut down the 15%-80% cost, and get the good reputation.
Major products: iron base motorcycle engine parts, auto oil pump &water pump parts, motor transmission gear, power tools parts,home appliance parts, textile machine parts,various kinds of machinery structural parts and OEM powder metallurgy parts.
We pay highly attention to packing quality. As we know the metal parts come out in perfect quality standard, but packages is not strong easily happen damage during delivery,so that final effects is 0. What we want is let you get our products safely fastly to give us high rates and reorder with us next time. We will control every steps very well for you.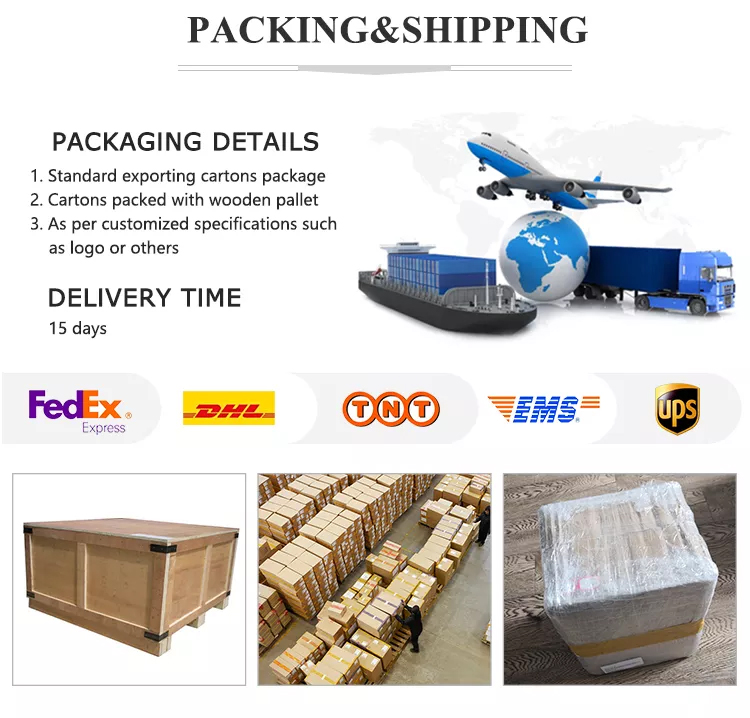 In our company all our package must make sure strongest then picked by shipping company. The inside with waterproof plastic bag + 5AA strong carton + green wooden pallet + plastic belt wrapped outside.
1: Give us inquiry by email.
2: Quote your price by our sales usually in 1-2hours on working days.
3: Confirm price& artwork and Sign Contact
4: Pay first half money
5: Make free metal parts samples to your door by DHL freely for confirmation
6: Only get your metal parts sample approval then start to arrange mass production.
7: When mass production is finished, we will take clear pictures for you confirmation. After you confirmed you pay balance.
8: Shipment by sea or air depends on your requirements.
9: You get the metal products, deal finished.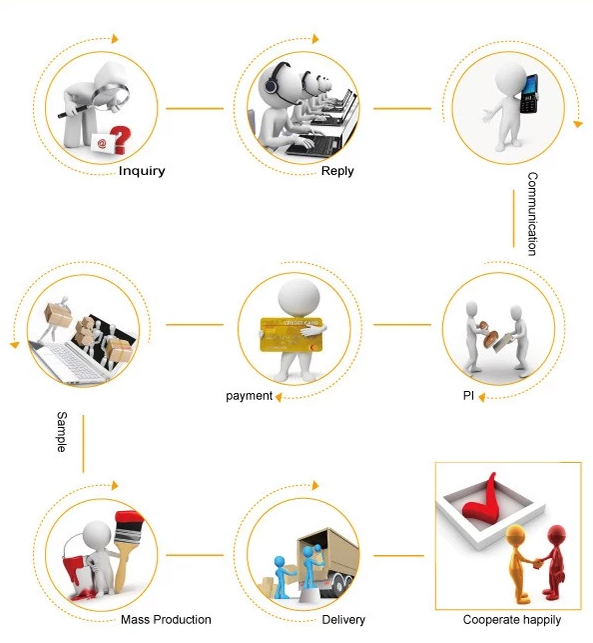 For whole steps we will guarantee you can get the metal parts safely and fast and in high quality. If in cased happen any problems because of us in this machining process, we promise remachining freely or refund your money. If mistakes is happened from your end, we can also remachining if you agree to pay extra machining cost.