Contact Us
+86 13480709275
Block 11,Shunchang Industrial Park, Xiaobian Second Industrial Zone, Chang'an Town, Dongguan City, China

How Can We Help?
If You Need Any Helps Please Feel Free To
Powder Metallurgy Parts
Powder Metallurgy Part Manufacturing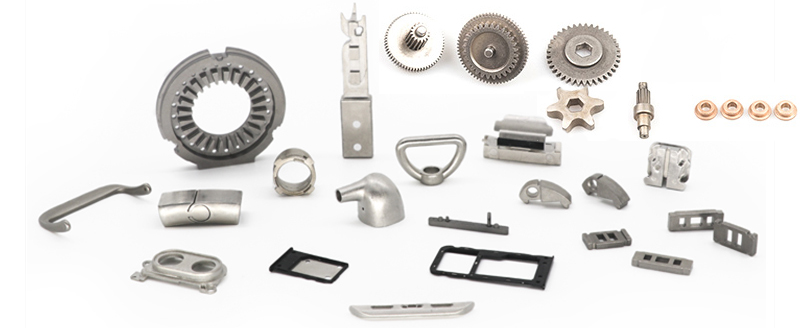 Powder metal sintered structure parts are components that are created by sintering together metal and metal alloy powders. The powder is compacted and subjected to heat, causing the powder particles to fuse together and form a strong, compact mass. This process is used to create metal and alloy components with a variety of shapes, sizes, and compositions and with intricate inner channels and cavities. Powder metal parts can be mass-produced quickly, cost-effectively, and with minimal waste. They are used in a variety of applications, including automotive and aerospace components, electrical components, and weapons.
As a net-shape process technology with good tolerance control, Powder Metallury provide a nearly unlimited shape, geometric-feature capability, high-production rates through the use of multi-cavity tooling. The raw materials widely used by Powder Metallury MIM technology are Fe-Ni alloy,Tungsten alloy, Ti alloy, high density alloy, stainless steel, iron steel and so on.
Powder metallurgy manufacturing is a green and environmentally friendly technology
It has been widely recognized by the industry as a green and sustainable manufacturing technology. The powder metallurgy process is generally recognized as a green and sustainable manufacturing technology. In most cases, powder metallurgy parts are produced as finished products after sintering, and can be packaged and delivered. The use of cutting oils in processing powder metallurgy products is minimal, and the release of toxic pollutants from cooling water and other sources is also minimal.
Compared to other manufacturing processes, the powder metallurgy parts industry has little to no environmental impact. Compared to traditional metal forming processes, powder metallurgy is approximately 60% more energy-efficient and has a material utilization rate of over 95%. The production process is environmentally friendly and free from pollution, aligning with the concepts of energy conservation, emission reduction, and sustainable development. Powder metallurgy is considered a green and environmentally friendly process. In the field of automotive parts, powder metallurgy has become an essential part and is known as a green technology. For many years, Harber Metal has been dedicated to the research and development of technology and innovation. With our efforts, the dimensional tolerances and performance parameters of our products have gradually reached higher levels. In the near future, we will be able to produce even higher precision structural components.

Metal Parts Produced by Powder Metallurgy Blow: