Contact Us
+86 13480709275
Block 11,Shunchang Industrial Park, Xiaobian Second Industrial Zone, Chang'an Town, Dongguan City, China

How Can We Help?
If You Need Any Helps Please Feel Free To
Defense Metal Parts
MIM Metal for Defense Industry
Metal injection molding used in the manufacture of defense parts such as slide, sear, hammer, firing pins, catches, inserts front/rear, trigger, extractor, magazine catch, slide stop, trigger bar, ejector, and rear or front sights.
Harber specializes in complex defense mim metal manufacturer services for the defense industry. We have rich experience in fabricating precision metal injection molding components for defense clients. You can trust our variety of Powder Metallurgy machining and metal fabrication services from complex mim metal fabrication, photo etching, laser cutting, and CNC milling to metal punching and assemblies.
In every stage of production, we are committed to providing unmatched quality, value, and service. Harber Metal will help you achieve the exact and precise defense equipment that exceeds various certifications. From the customer's initial design processes, and development stages, to prototyping and final volume manufacturing.
We offer optimum quality assurance of critical welded joints. Our experts can also design the highest quality standards of mim defense parts while keeping costs to a minimum. From simple to complex defense parts, Harber Metal has the capability to produce them accurately and efficiently using a wide range of high-grade metal materials. This includes aluminum, stainless steel, carbon steel, titanium alloys, nickel alloys, etc.

Harber uses state-of-the-art metal injection molding technology to create high performing small complex defense metal parts in large quantities. Harber produces parts with complex shapes for the Defense industry providing superior strength, and excellent surface finish. Harber provides complete one-stop solutions for your most demanding defense product needs.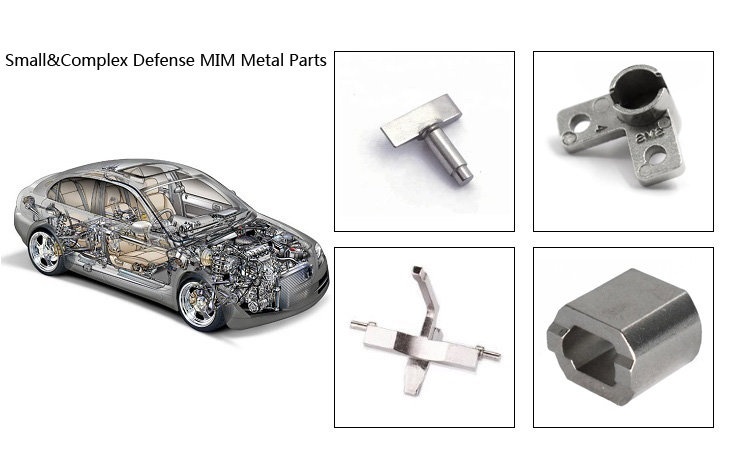 Send us your CAD File or Drawings and we'll give you an appraisal of the viability of MIM molding for your new or existing metal project.
Reach Out to Discuss Your MIM Project
Do you need a quote for your high-precision complex mim Components? Contact us now by phone, email, or through our contact form.